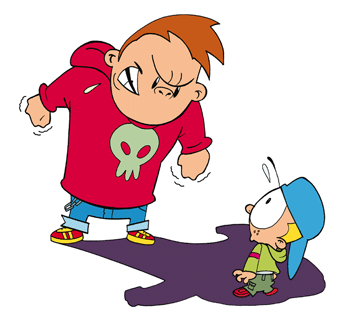 I turn the corner of the hallway and see the first hit of the fight. My mind plays it all in slow motion. I can see the veins in the fist. I can see the spit fly out of the mouth of the victim. Bullying happens everywhere.
I believe bullying is a big problem. Have you ever wondered what goes on inside the mind of a bully? Why does a bully, bully? Maybe it's because someone never showed him how to control his anger. Maybe she is insecure and doesn't want anyone to know. Maybe he thinks it's cool. Maybe she thinks her friends will respect her more. Maybe he doesn't like people who are different. Maybe the bully was once a victim.
We spend a lot of time talking about bullying. We recognize bullying. We know the signs. We know what to do if someone we know is being bullied. We know what to do if we become the victim. These things are very important. We should be talking about them.
But how do we stop bullying? If it were easy, we'd have it figured out by now. Bullying has been around forever. Anywhere from nine percent to fifty percent of children get bullied each year. The only way to stop something is to know why it happens. There are many resources for learning what makes bullies tick. Maybe once we learn why bullies act the way they do, we'll be able to figure out a way to prevent them from bullying.
Here are a few resources to learn more about the minds of bullies:
Bullies On Bullying: Why We Do It